Look Beyond the Pain to the Victory
On the way home from a conference last weekend, some friends and I stopped by the Mount Grace Priory in North Yorkshire. Founded in 1398, it is one of the best preserved medieval monasteries in England. For hundreds of years Carthusian monks lived here in solitude, in their own self-contained cells, to devote themselves to prayer.
In the middle of the church that lies at the centre of the crumbling remains, a more recent piece of artwork stands – the Madonna Of The Cross. Crafted by the sculptor Malcolm Brocklesby in 1996, the piece is quite striking in its form and meaning. Having left my camera at home, I quickly took some shots of it on my phone.
An inscription to the statue explains Brocklesby's vision:
'This Madonna is not the meek and subservient figure portrayed in so many paintings, but a determined and intelligent young woman who understands the wonder and the importance of her calling as she dedicates her Child to the purpose of the Creator.'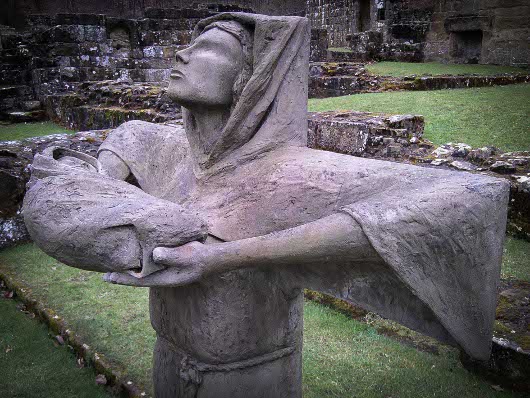 'She is also aware of the suffering that this will entail. The figure of the Madonna is integral with that of the Cross, the stark and terrible symbol at the heart of Christianity, which is an inescapable part of her existence.'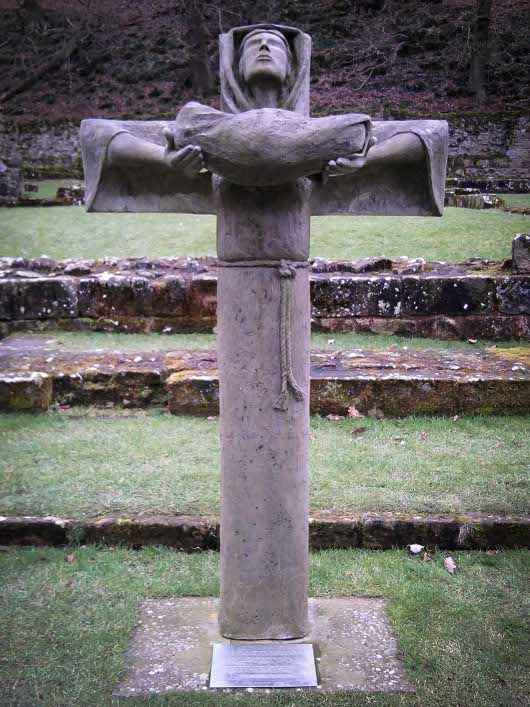 'Her expression, however, is more of serenity than anguish. She is looking beyond Calvary to the Resurrection, and the way in which she holds the Christ Child high suggests the subsequent Ascension rather than the immediate prospect of a sacrificial death.'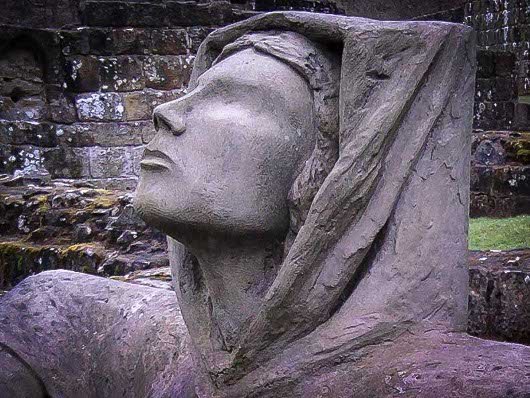 'The statue combines the three facets of Christianity which establish the Atonement of Mankind – the Nativity, the Crucifixion and the Ascension.'
I have reflected elsewhere about Mary's risky calling to bring Jesus into the world – a calling full of peril, possible misunderstanding, heartbreak. Brocklesby's sculpture makes this suffering clear. While she would never experience what Jesus experienced on the cross on our behalf, a sword would pierce Mary's own heart too.
But the Madonna of the Cross shows us more about Mary:
She knows the importance of her divine calling.
She knows the suffering this will entail and accepts it.
She offers her most precious possession to God.
She looks beyond the pain to God's victory.
So, reflect for a moment.
And ask yourself:
Will I accept the suffering of my own divine calling? Am I willing to give up what I cherish most to serve God's purposes? Will I look beyond the pain to God's victory?
***
Question: Your general response is welcome. Leave a comment now.