059 Seven Ways God Might Be Speaking To You
In Scripture we find God speaking through peals of thunder, pillars of cloud, flaming bushes, even donkeys. We're told he displays his presence through the beauty of creation, and is fully revealed in the face of Jesus. God is a communicating God. So how might we expect him to speak to us personally? Here are seven ways.
Listen Now
God speaks to those in a position to hear him, in ways that are intelligible to us, in the company of others. That's what we explored in my last post and podcast. And once we get ourselves in a posture to hear him, there are many 'channels' God can use to guide us.
1. An Audible Voice
As we explored last week, this was Samuel's experience. It's a rare occurrence indeed, even in scripture. But God does sometimes speak audibly to people today. Here's one powerful example.
"Fifteen years ago I heard God speak to me audibly," Maryanne told me while calling into a radio show I hosted. "I was in the New Age movement at the time, was desperately lonely, and one day called out to God for help."
"What words did you hear this voice say?" I asked.
"The voice told me to visit a particular church. And it was the last church I'd ever have thought of visiting." Maryanne then described how she obeyed the voice, visited the church, was introduced to the Bible, and became a Christian. (You can hear Maryanne tell her full story in the podcast.)
As Maryanne goes on to say, this isn't an experience we should necessarily seek. It's completely up to God how and when he wants to speak to us. Sometimes he speaks audibly. The experience changed Maryanne's life.
2. An 'Inner' Voice
Elijah expected to hear God in some loud, sensational way, but ended up hearing him through a 'gentle whisper'. The early church sensed God speak through their peaceful agreement that "seemed good to the Holy Spirit and to us". Often described as the 'still, small voice', this is a more frequent form of divine guidance. God whispers to us in our souls, through a particular thought, or a peaceful sense of 'knowing'.
The tonal qualities of this voice are important to listen for, and Maryanne's experience can be called on again to illustrate. "What did this voice sound like?" I asked her.
"It sounded strong and authoritative," she said, "but also kind and fatherly."
Strong and authoritative, but kind and fatherly. Like all forms of guidance, we should seek confirmation from others to be sure we've heard from God; it's easy to mistake his inner voice for our own thoughts and desires. But if the voice you hear is harsh, critical, compulsive or full of angst, think twice about its origin.
3. Through Another's Voice
Our God is deeply relational, so he loves to speak to us through others. This can be through 'ordinary' means like a pastor, mentor or friend giving us wise advice, or a teacher who gives us truth to live by. Or it can be through more 'dramatic' ways, like when God reveals something to someone they otherwise wouldn't know about us.
A woman named Jo asked me for some publishing advice recently. I asked her why she wanted to write. "Well," she said, "God spoke to me twice about writing a book. The first time happened a year ago, here in England. A visiting speaker at our church picked me out of the crowd and said she believed God wanted to use me to bring healing to others, and to write a book about my experiences. I had never met this woman before. She didn't know that I'd been journaling stories for years.
"The second time happened just a few months ago. I was in South Africa on business and visited a church one Sunday. The service ended and I began to leave when the pastor – who also didn't know me – picked me out of the crowd and said exactly the same thing: that God wanted to use me to heal others, and to write a book about my experiences."
Jo is starting to write her book!
4. Through the Needs of the World
Late one night David Wilkerson opens a copy of Life magazine and stares at an artist's impression of a boy, one of seven on trial for murder. Unexpectedly he begins to cry. In that moment he hears a command: "Go to New York City and help those boys". Against all logic he obeys and founds Teen Challenge, which today has among the highest success rates of drug and alcohol recovery programs in the world.
During a trip to China, Bob Pierce meets an impoverished child. He soon founds World Vision as a result. One day a 36 year-old teacher is sitting on a train when she hears a divine call to serve India's slums. She obeys, and becomes Mother Teresa of Calcutta.
God speaks by direct address, through a whisper, or another's voice, and sometimes he speaks through the needs of the world, be they humanitarian, spiritual, intellectual, or artistic. As Frederick Buechner has said, "The place God calls you to is where the world's deep hunger and your deep gladness meet."
5. Through Our Lives
"We sleep and dream," Buechner writes in The Sacred Journey. "We wake. We work. We remember and forget. We have fun and are depressed. And into the thick of it, or out of the thick of it, at moments of even the most humdrum of our days, God speaks."
This is a particularly helpful thing to remember when it comes to seeking career direction. Through a variety of shaping forces, God has made us in a particular way, with particular gifts, interests and ambitions – all of which can be listened to when deciding how best to invest our lives. Asking ourselves some questions can help here:
Your godly desires: What do I love to do? When do I feel most alive?
Your godly ambitions: What do I dream of doing?
Your godly gifts and talents: What am I most effective at doing?
6. Through Circumstances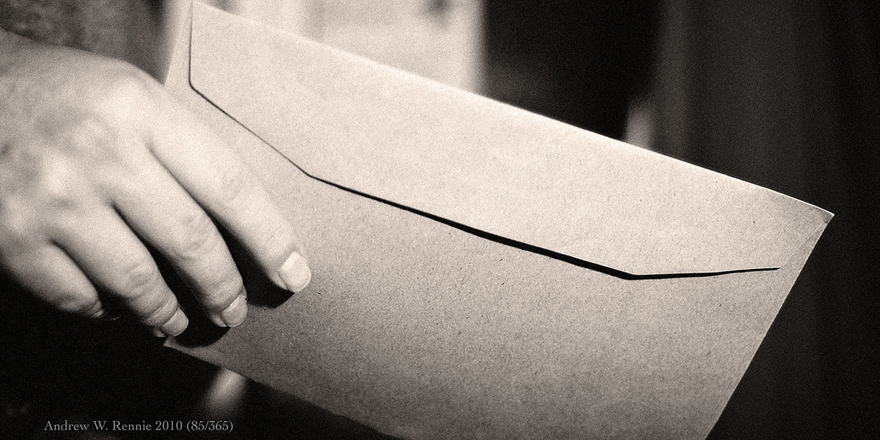 Sometime ago, I prayed for two years to know what to do with my life. Following a hunch that my future might lie in radio, I wrote to the director of an Australian radio company:
Dear John,

I'm not sure yet, but I think God might be calling me to work in radio. I don't have any experience in broadcasting and I know I'll need some formal Bible training. Do you offer anything like that at your offices in Melbourne?

Yours sincerely,

Sheridan Voysey
As I waited for John's reply, something strange happened. Over the following days, two thoughts gently but persistently circled my mind: Make contact with the Bible College of Queensland. Get in touch with Family Radio. I didn't know anything about either but the thoughts continued: Make contact with the Bible College of Queensland. Get in touch with Family Radio. John's reply arrived a fortnight later, and set the course of my life for the next fifteen years:
Dear Sheridan,

It's wonderful to hear what God is doing in your life. Actually, we're just a two-person office here in Melbourne, so I can't offer you any radio or Bible training.

But if I were you, I would make contact with the Bible College of Queensland and get in touch with Family Radio.

Sincerely yours,

John Reeder
7. Through the Bible
I mention the Bible last because it is first in priority and the judge of everything mentioned above. How can you be sure the the voice, whisper, circumstance, or need you're hearing is God, and not your own thoughts, desires, or culture speaking? By comparing it to scripture. God won't contradict something he's already said.
The Bible is the historically attested, divinely-inspired revelation of God's personality and record of his involvement in the world. It exposes the deepest desires of our heart, reveals God's will, and is his primary channel of communication. After sixty years reading it, John Piper can say "there are treasures and wonders and glories and dimensions of God to be seen in the Bible that we have scarcely seen." I have heard God's voice on occasion through much of what I've shared above. But I regularly hear his voice through scripture.
---
Learn More
The following resources might be of interest in pursuing this further:
Please Share