Announcing Our New Film on Dealing with Broken Dreams
Update: A Journey Through Broken Dreams is now available to watch here!
---
This was never what Merryn and I expected to happen. I wrote a book about broken dreams. People started reading it. Emails came in from readers. The book got shortlisted for an award. And now they're making a documentary about it.
I assure you this was never in our plans.
We have just finished an amazing, exhausting, intense and unforgettable four days of filming a television feature called The Journey Through Broken Dreams. Produced for the Day of Discovery TV programme, the documentary will tell our story of infertility, feature some luscious cinematography of Oxford, while hopefully bringing healing to many.
The show will air in the US and Europe this October with other countries to be announced. It will also be available online and on DVD. I'll share video clips as they become available (make sure you subscribe so you don't miss out!).
For the time being, here's a little of what happened behind the scenes.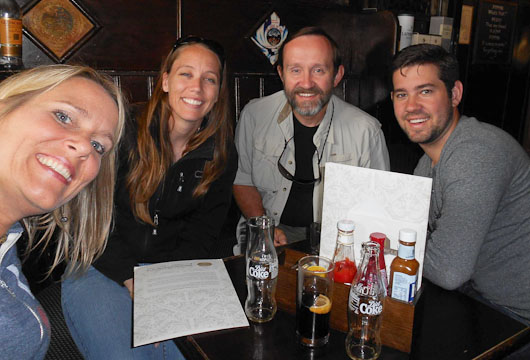 The wonderful Day of Discovery team fly in to Oxford from the US: assistant producer Julie, videographer Leah, executive producer Tim, and director Tyler. These guys brought a level of expertise, faith and personal commitment to the project like no other.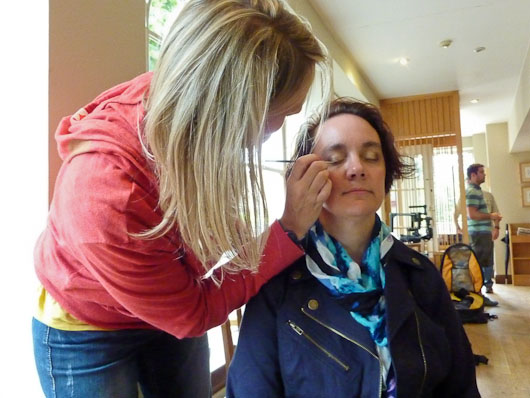 First up is the cafe scene at Cafe Loco. Julie gives Merryn (and later, me) a makeover.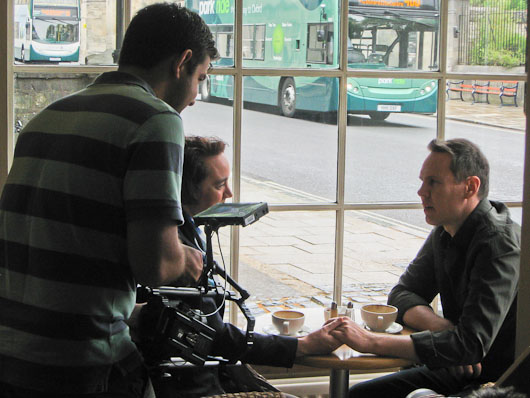 Merryn and I look reflective while the cameras roll.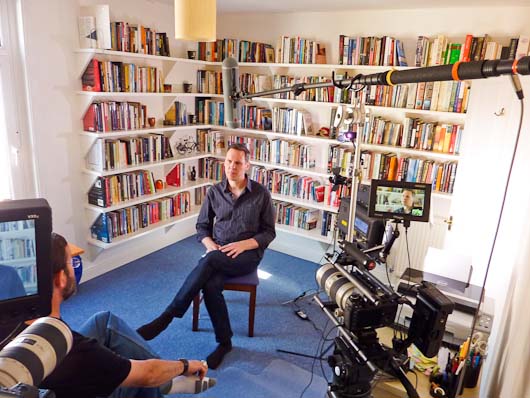 Later we do some individual interviews where our 'decade in the wilderness' story comes out. Me in my study…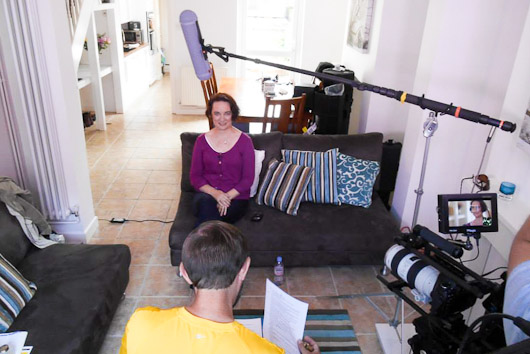 … and Merryn in the lounge room. Producer Tim wanted us interviewed separately so our individual experiences could be heard. Apparently Merryn was brilliant.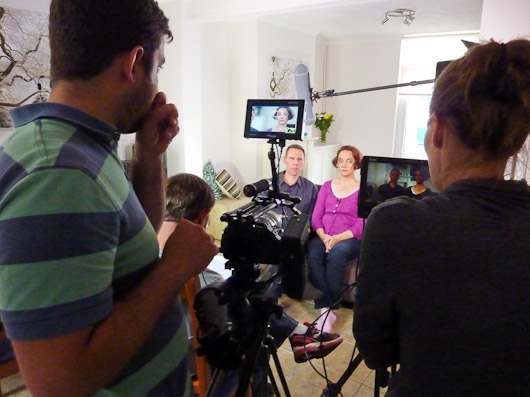 Only at the end did Tim bring us together to talk. Trust me, we were more happy about it than this picture suggests.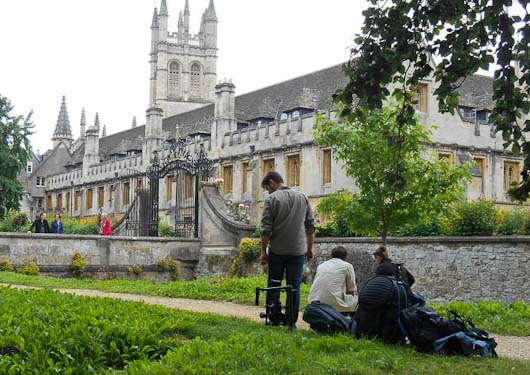 Expect some gorgeous shots of Oxford throughout the documentary. This picture of CS Lewis's old haunt Magdalen College is nothing compared to the dreamy video they captured.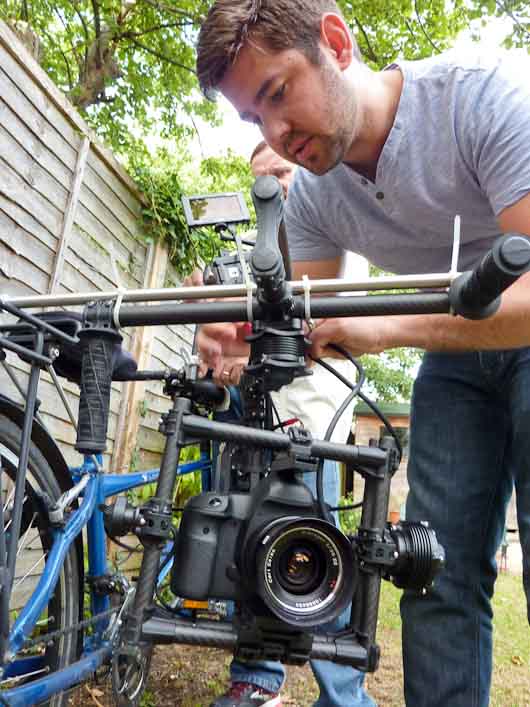 The team brought stacks of equipment with them, including this nifty Movi gyroscopic steadicam. Strap in the camera and you can maneuver it by remote control. Tyler tried something different with it…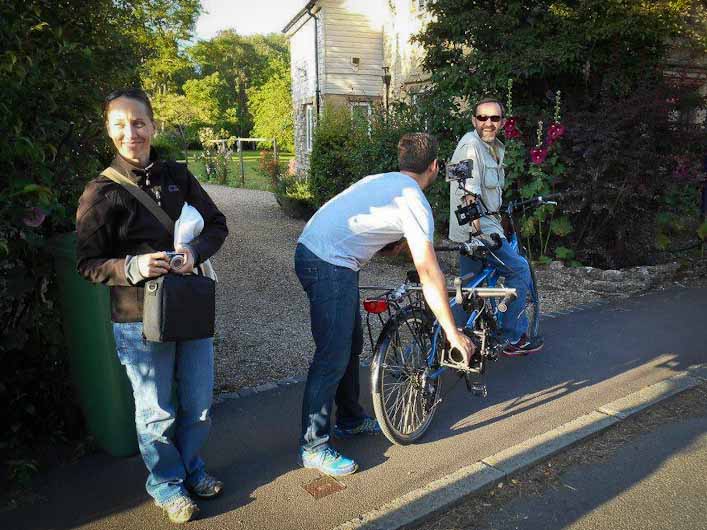 … strapping it to a tandem bike so he could get some interesting angles on Merryn and me riding our bicycles.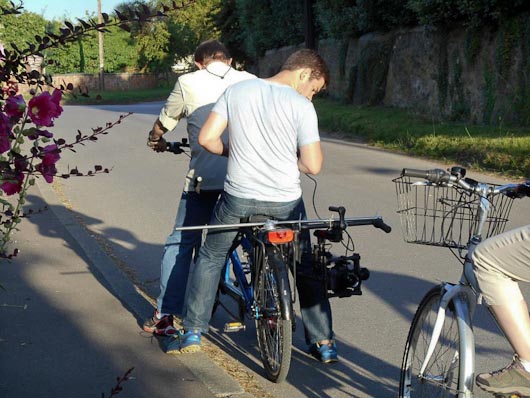 The only problem was… the batteries died.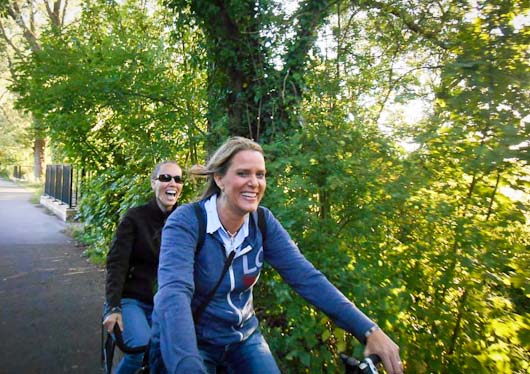 But we still got some shots, and then Julie and Leah took the tandem for a spin. Their squeals and laughter won't be quickly forgotten!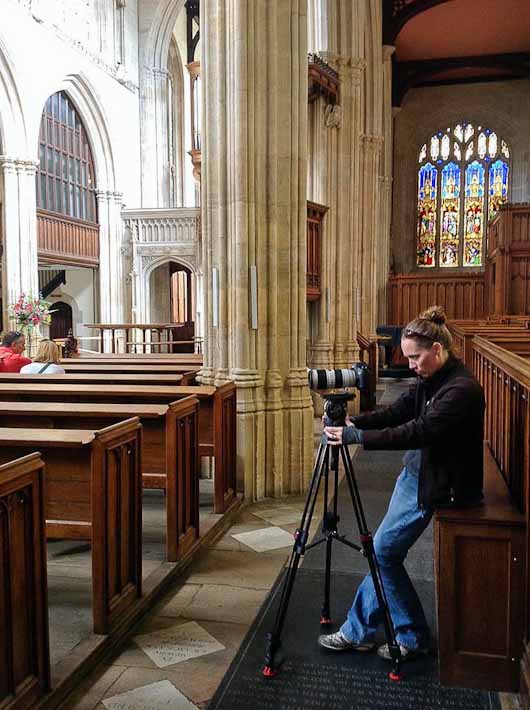 Leah sizes up a shot in St Mary's Church. Wait to you see the swooping-down-from-the-balcony shot they got while Merryn and I walk in.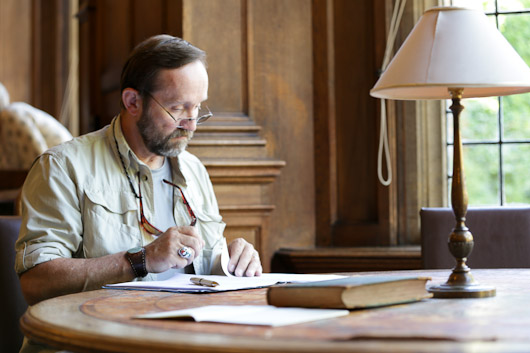 Producer Tim reviews scripts while the team set up a scene in Oxford Union's historic Goodman Library.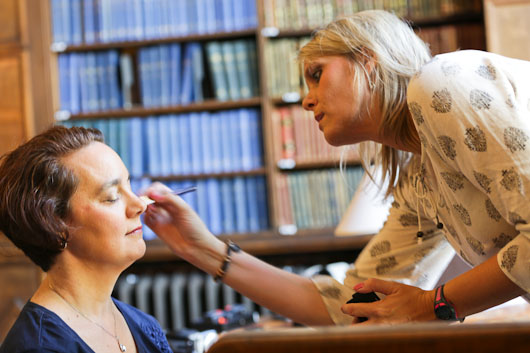 A little more makeup…
… before a touching scene of Merryn remembering her wrestle with God during our ordeal.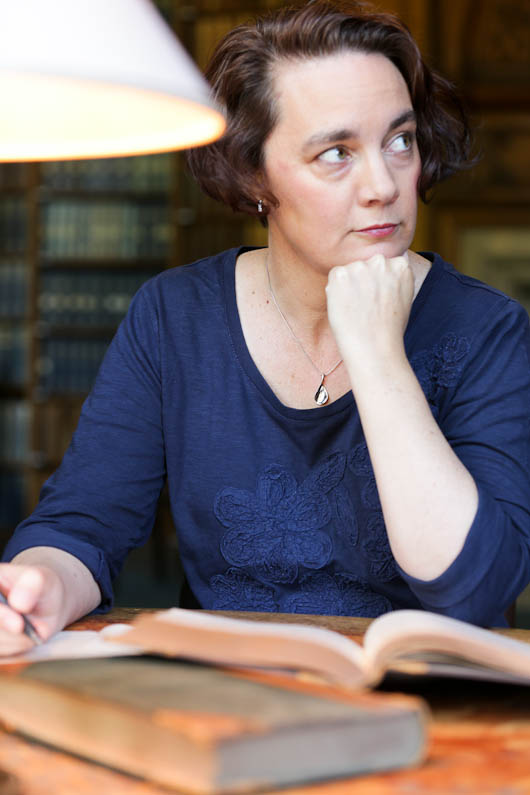 Leah let me play with her expensive zoom lens while they were recording Merryn. I took this shot…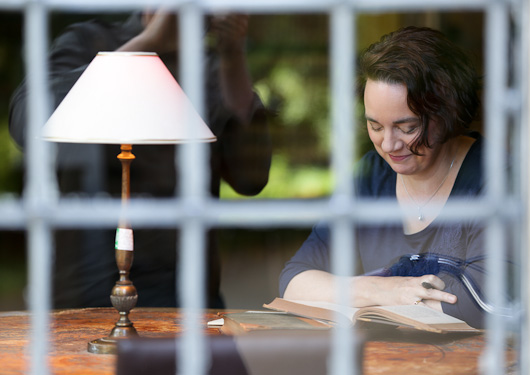 … and this shot…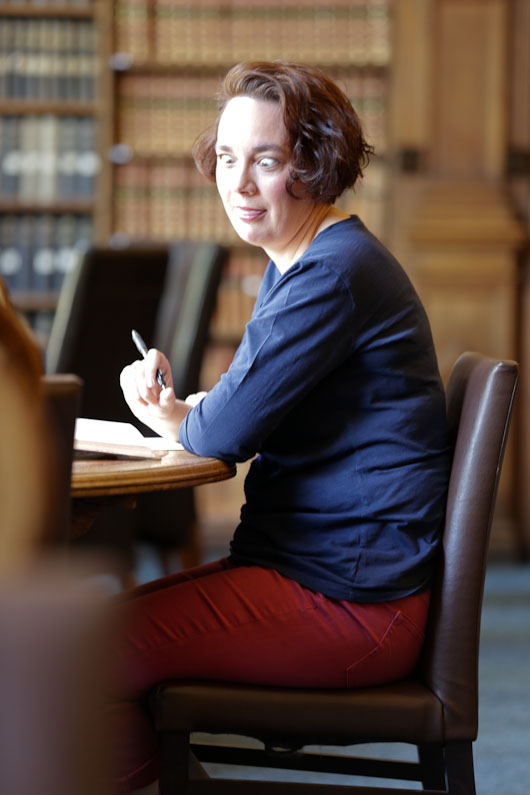 … before Merryn caught on to what I was doing.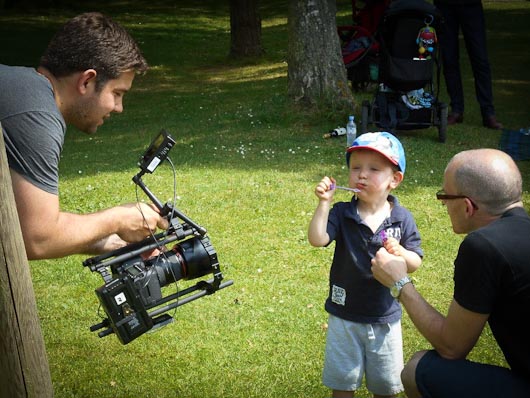 Tristan, one of three cuties you'll meet in the documentary, practices his bubble-blowing skills for the camera while Dan, our 'surrogate husband' (it's a long story) looks on.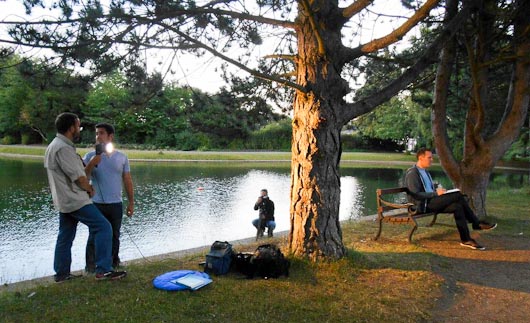 Capturing a writing-deep-thoughts-in-my-journal moment with a little artificial sunlight. What am I writing? A couple of lines from Resurrection Year: 'I don't understand it all. But I'm still hold out that God is doing something good through all of this.'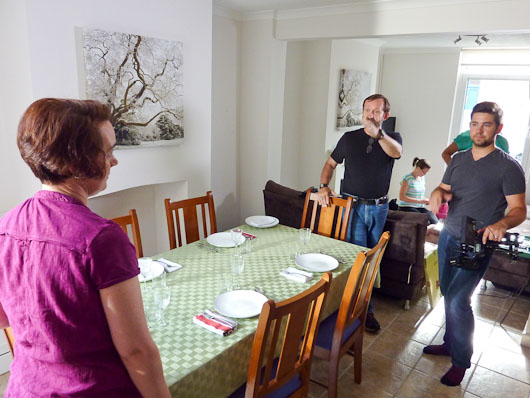 The Journey Through Broken Dreams reenacts a 'day' in Merryn's and my life, culminating in an evening dinner scene.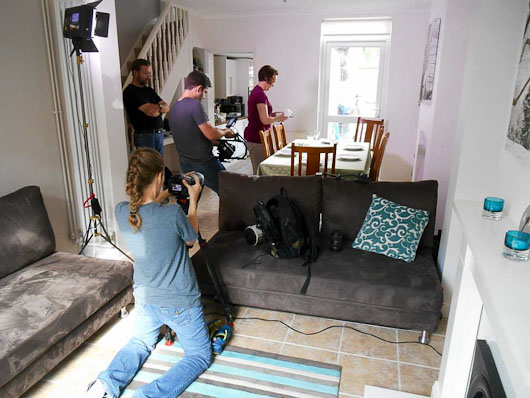 Placing cutlery has never seemed that fascinating before…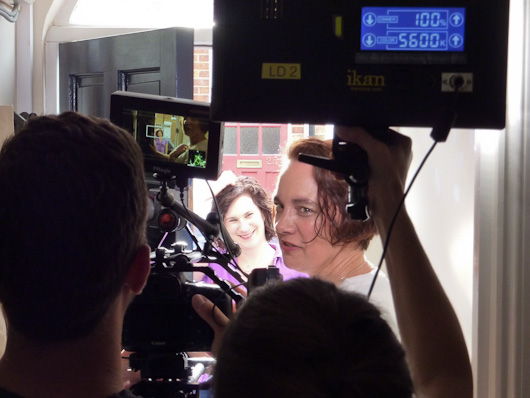 … and welcoming guests has never taken so long. We needed a few takes as Merryn and Liz kept laughing when opening the door.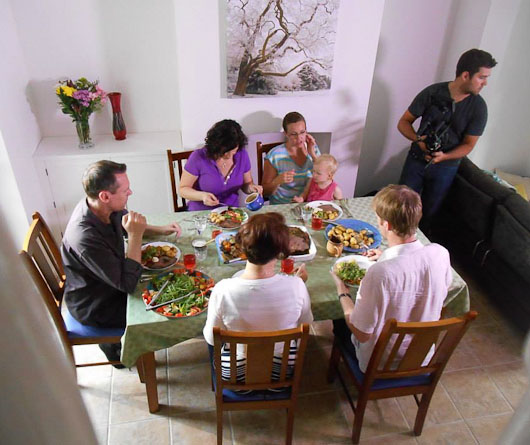 But welcoming good friends Liz, Adam, Hannah and little Ellie in to enjoy crusted roast beef with Mediterranean roast vegetables and roast garlic new potatoes, with a chocolate tart and creme fraiche ice cream for dessert was nice. We all forgot we were being filmed and just ate and talked.
---
There is so much more to say, but it will be better left shown. Our prayer, with the Day of Discovery team, is that The Journey Through Broken Dreams will help many many people start again.
We'd value your prayers.
More on the Book
Buy Resurrection Year through Amazon US, Amazon UK or other retailers
Read what others are saying about it
Find out more about the book
Related show