Standing on the Shoulders of Many
Picture: MV Jantzen
I have just returned from the Christian Media Australia 2011 annual conference on the Gold Coast, where my colleagues honoured me with a service award for my 'contribution to Australian Christian broadcasting'. As I soon leave the country for a season in the UK, this is one of the finest farewell gifts I could have been given.
As I accepted the award on stage I was mindful of the many who have invested their time and energies into me, and was reminded again of an important lesson: when success, awards and recognition come, remember those who have been a mentor to you.
Here are some of the people who have shaped my broadcasting career and for whom I'm thankful:
2011-2006: For Phillip Randall, John O'Donnell and the Hope Media team with whom I created Open House: for teaching me how to combine passionate faith with business sense so that neither is neglected in a Christian venture.
2004-1999: For Barry Grosser and Arthur Muhl at Perth's 98.5 Sonshine FM: who passed on their immense radio programming wisdom to me freely and let me incorporate some talkback into the morning show.
1999-1996: For Malcolm Pollard at Brisbane's 96five: through whom I first heard what a Christian radio station with excellence could sound like.
1995: For Ian Keenan, then working at Brisbane's 4KQ. I sent him a tape of my on-air work, asking for feedback. Secretly hoping for lavish praise of my overwhelming natural talent, Ian gently but clearly told me I sounded cliched and was trying to sound like every other radio 'jock'. He was right. 'Be yourself,' he said. 'What can you say that no one else can say?' he advised. It was the turning point in my radio style.
1994-1996: For Paul Ordish and Harvey Gaskin. Before 96five had its licence it was called Family Radio. A tiny operation at the time, it bought a few hours of air time each day from another community radio station. Harvey listened to my voice and suggested I should be on-air (the idea hadn't occurred to me). Paul showed me around my first studio panel.
1994: For Fiona Windsor (now Fiona Sharpe): a former commercial radio announcer and, at the time, fellow Bible College student who unlocked Family Radio's doors many a night to let me practice off-air.
1993: For John Reeder: who God used to get me into radio in the first place, using his words in a most coincidental fashion to guide my life so significantly.
These are only some of the professionals I must thank for shaping my broadcasting career. But I must go on. In the early days I would walk out of the studio after most on-air shifts discouraged and ready to quit. I sounded bad and I knew it. But an older lady in my church named Judy Barry would come up to me each Sunday. 'Oh Sheridan,' she'd say, 'I listened to you on the radio again this week. You've got such a wonderful future ahead of you.'
Or what about my mother, who listened to every stumbling, fumbling, tongue-tripped-over shift I did? Or my father who would secretly pay for my college fees so I could continue to eat while I trained? I haven't got space to mention the pastors and authors who have shaped my spiritual life – a key component of the kind of broadcasting I've done. Or the emails, letters and comments from listeners that have given me strength time and again.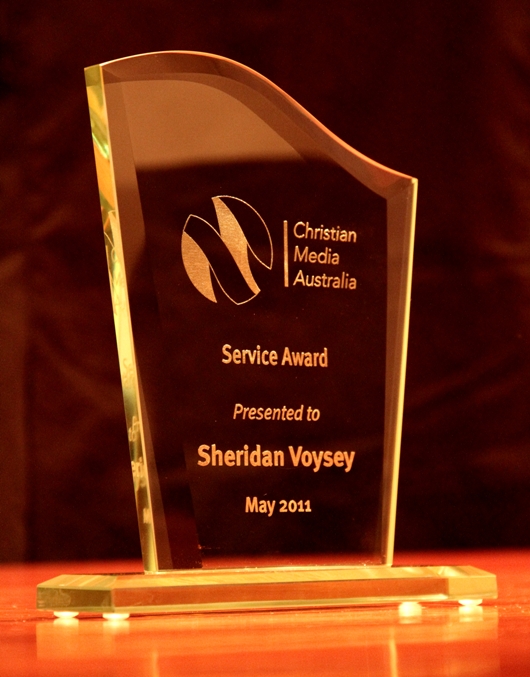 And then there's God. 'What do you have that God hasn't given you?' asks the apostle Paul. Every talent and gift, and every influential person in our lives, comes ultimately from His hand.
Who has invested their life and energies into you? Who has helped lift you up in your life and career? Who has passed on their skills and wisdom to you? Don't be surprised to see the footprints of God around their efforts.
Awards and recognition are lovely to recieve, but their greatest gift is helping us see that we stand on the shoulders of many, with God as the ground beneath them all.
***
Q: Tell me about one person who has positively shaped your life. Who are they and what did they do for you?