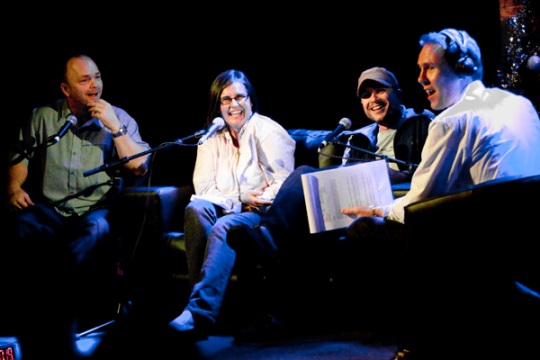 Uncategorized
My Open House Announcement
Picture: David MacCullagh Photography
I remember the night the idea of the Open House show was conceived. I was sitting by the Brisbane River, sometime in 1995. Sitting there at Southbank, watching the city's lights dance in the water, I dreamt of hosting an evening talk show that interviewed guests from around the world on issues of life and faith; a show that welcomed authors, artists, actors and activists; a show with a national audience, live music performances, and all done in a way that engaged both people of faith and people interested in faith. It turned out I wasn't the only one with that dream.
Ten years after that night I got a phone call. It was from a radio station manager. 'We're ready to do that talk show,' he said. I moved cities, we got planning, someone wise came up with the name 'Open House', and the show was born on Sunday evening, April 2, 2006.
Looking back now, five years on, I'm overwhelmed at what God has done with the program. Our first show aired on two stations: Sydney's Hope 1032 and Melbourne's 89.9 Light FM. Today Open House airs on eight stations, feature interviews are replayed on another national network, around 100,000 people listen in each week, our iTunes podcast is frequently in the top 10 for the Religion and Spirituality category, we've produced three books, and we hear regularly of lives changed by the show.
So, it's a sad thing for me to announce that I'm leaving Open House. Don't worry: there have been no scandals, no blow ups with management—nothing worthy of a headline. And it's not that I'm going to something 'better' either. The conversations we've had these last few years will be hard to beat.
Professionally speaking, these five years have been a highlight. On the personal front, however, they've included some pretty difficult times—times that have affected my wife Merryn in particular. It's been a rough journey for her. And it's time she had a fresh start.
So, in May we'll be moving to the UK. Merryn's always wanted to live and work overseas and that is a dream she can have fulfilled. My last Open House show will be Sunday March 27. We'll spend April packing and tidying up loose ends.
The good news is that Open House will continue. A special show is being planned for March 27—which I hope you can be part of—and on that night we'll be revealing the new host of the show. I think you'll be pleasantly surprised who it is! With that new host, and with producer Clare Bruce and the whole Hope Media team who make the show happen each week, Open House will be in good hands indeed. I'll be listening.
What does the future hold for me? Well, the great unfinished business of my life is a book project I've been working on for some time. It's about seeing God's nature reflected in everyday experiences like beauty and love. I've been running hard these last few years and this book keeps chasing me, so a writing sabbatical for the rest of the year to finish it will be welcome indeed. I'd love to launch some kind of new media project in 2012, but I'll have to wait and see what God comes up with. He's often a God of surprises, isn't he?
I'd love to stay in touch with you through this blog, and on Facebook and Twitter.
But I mustn't get too far ahead of myself. We've still got three more shows together. I'll be savouring each one.
***
Q: Life doesn't always work out to plan, does it? Tell me about a time when your life took an unexpected, adventurous turn. What happened?