After the Burning of Notre Dame, Let's Look at the Cross
On a visit to Antwerp's Cathedral in Belgium once, I was particularly struck by one of its many artworks. Struck, because it seemed so out of place with the rest of the cathedral's pieces. Struck, because I wasn't sure if it was a joke or even sacrilegious. A man dressed in a trench coat, boots and glasses gazes up at a cross he balances in one hand. I circled round it, taking pictures. Take a look at it. What do you think? (All pictures mine unless stated otherwise.)
The Man Who Bears The Cross
Called The Man Who Bears the Cross, the polished bronze sculpture by contemporary artist Jan Fabre was installed in the cathedral in 2015, the first new addition to its collection since 1924. It's positioned near Ruben's seventeenth-century masterpiece The Descent from the Cross, a triptych of paintings above one of the cathedral's altars. Here modern and classical meet. Or perhaps clash.




The Man Who Bears the Cross is a self-portrait of Fabre, one of a series of similar pieces including The Man Who Measures the Clouds, The Man Who Gives a Light and The Man Who Writes on Water. When a wax predecessor was spotted by parish priest Bart Paepen, he thought it the perfect piece to bridge the worlds of church and contemporary art, and so commissioned the bronze version for the church.

In contrast to the cathedral's other pieces, The Man Who Bears the Cross, like much modern art, doesn't proclaim a message but instead invites individual interpretation. And there are many. For one critic, the sculpture symbolises 'the balancing of dualities in all of us—good and bad, joy and sorrow, life and death'. For another, it represents the balance between 'realism and relativism, between art and religion/science,' while giving a nod to 'the impossible possibility to live without art'. Ok then.

Fabre himself has suggested a number of meanings for the sculpture—saying it represents his identity as an artist who is 'searching, doubting, taking risks, choosing to experiment, asking questions'. At other times he's suggested the cross is the meeting of humanity and nature, or the ultimate symbol of belief which asks us 'Do we believe in God, or do we not?'
Take the Cross in Your Hands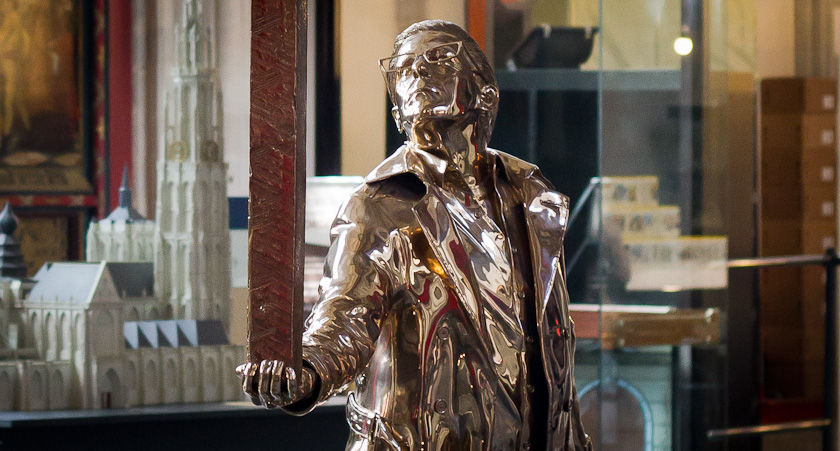 Contemplating The Man Who Bears the Cross, I couldn't get past how light the cross looks. Or that the figure balances it so perfectly and effortlessly. Or that in some way the whole thing looks like a circus trick: 'Step right up, folks! Watch me balance a Roman torture device on one hand!' How different this feels to both the physical and spiritual weight of the original cross it references—a weight Rubens and other classical artists around it depict.
'Rather than bearing the weight of the cross,' one critic writes, 'Fabre prefers to play with it.' Such 'presumptuous self-glorification', he adds, is a sign of the 'decline of art'. Ouch.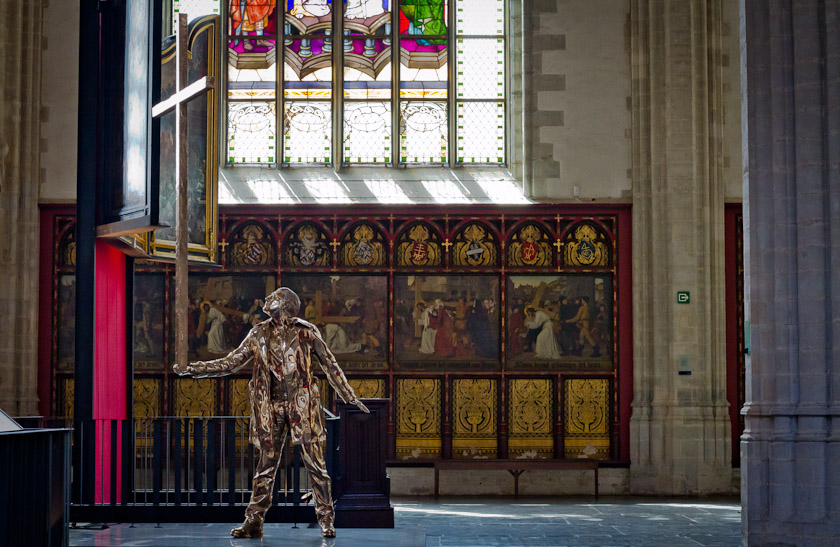 So what did Bart Paepen, the cathedral's parish priest, see in the work? Here's his own interpretation:
A man bears an enormous wooden cross on his right-hand palm. He is not a prophet, nor an apostle, a martyr, or a saint. He is someone who does what we invite every visitor of the cathedral to do, regardless of his background or his convictions. Take the cross in your hands, a token of the God that is celebrated here, a token of his love for the whole of humankind, a token of the engagement that he asks from all his followers. Take up the cross and balance it. Perhaps you will not succeed in holding it upright. Perhaps it is too heavy or too difficult. Perhaps you should try again later. Perhaps you don't like it. Just let it down then. Who knows—you may succeed and feel right. Then it could be that you have found a goal and a meaning in your life.
Another Cross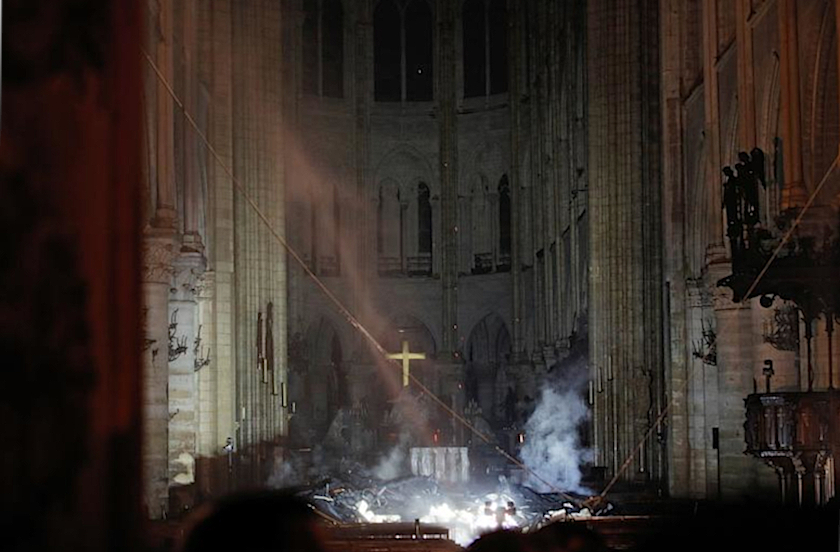 Picture credit: Philippe Wojazer (Reuters)
The world saw another cross in April 2019—one just as golden but also caked in the ash of 850 years of history and irreplaceable architecture. When Notre Dame Cathedral burned, its ancient roof collapsed, its steeple falling as the city wept and the faithful sung hymns, this image emerged in the aftermath—a dimly-lit cross amongst the rubble. Maybe it's a little weightier now from its ordeal, carrying all that ash and dust, all those tears and prayers.
The timing of this tragedy wasn't missed by any news anchor covering the story. All this happened in Holy Week, a mere three days before Good Friday—the day that original cross is contemplated in earnest. As secular France mourned the loss of its spiritual heart, as the world mourned with it, perhaps Bart Paepen's words were more than apt—both then and now:
Take the cross in your hands.
Feel it. Contemplate it.
You may find new meaning for your life by doing so.
And France, you may find new life.
In Your Hands
So Jesus said, "When you have lifted up the Son of Man on the cross,
then you will understand that I am he."
***
Jesus said, "Father, forgive them, for they don't know what they are doing."
And the soldiers gambled for his clothes by throwing dice.
***
One of the criminals hanging beside him scoffed, "So you're the Messiah, are you?
Prove it by saving yourself—and us, too, while you're at it!"
***
By this time it was about noon, and darkness fell across the whole land until three o'clock.
Then Jesus shouted, "Father, I entrust my spirit into your hands!"
And with those words he breathed his last.
***
But very early on Sunday morning the women went to the tomb, taking the spices they had prepared.
They found that the stone had been rolled away from the entrance. So they went in,
but they didn't find the body of the Lord Jesus.
***
As they stood there puzzled, two men suddenly appeared to them, clothed in dazzling robes.
The women were terrified and bowed with their faces to the ground. Then the men asked,
"Why are you looking among the dead for someone who is alive?
He isn't here! He is risen from the dead!"
***
And just as they were telling about it, Jesus himself was suddenly standing there among them.
"Peace be with you," he said. But the whole group was startled and frightened,
thinking they were seeing a ghost!
***
"Look at my hands. Look at my feet. You can see that it's really me."
***
Though he was God,
he did not think of equality with God
as something to cling to.
Instead, he gave up his divine privileges;
he took the humble position of a slave
and was born as a human being.
When he appeared in human form,
he humbled himself in obedience to God
and died a criminal's death on a cross.
***
Therefore, God elevated him to the place of highest honor
and gave him the name above all other names,
that at the name of Jesus every knee should bow,
in heaven and on earth and under the earth
***
For God in all his fullness
was pleased to live in Christ,
and through him God reconciled
everything to himself.
He made peace with everything in heaven and on earth
by means of Christ's blood on the cross.
***
He did not retaliate when he was insulted,
nor threaten revenge when he suffered.
He left his case in the hands of God,
who always judges fairly.
He personally carried our sins
in his body on the cross
so that we can be dead to sin
and live for what is right.
By his wounds
you are healed.
***
"If you try to hang on to your life, you will lose it. But if you give up your life for my sake
and for the sake of the Good News, you will save it."
---
Please Share