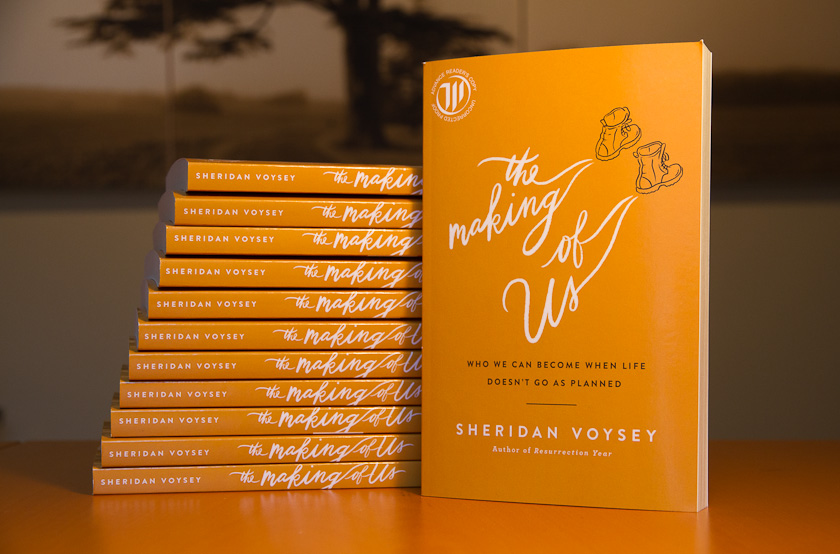 Beautiful Things Can Emerge from Life Not Going as Expected
When life takes one too many unexpected turns, do you find yourself saying, "I don't know who I am anymore"? In the wake of shattered dreams, do you wonder how you will keep going—and if you'll ever find purpose or joy again?
After infertility, an international move, and a professional change shook Sheridan Voysey's world, he realised that he couldn't reconcile his expectations with the life he was living. Feeling lost, he decided to pair his spiritual journey with a literal one: a hundred-mile pilgrimage along the northeast coast of England.
Inspired by the life and influence of the seventh-century monk Cuthbert, Sheridan travelled on foot from the Holy Island of Lindisfarne to Durham. Taking his friend DJ along for the journey, and keeping a journal by his side, Sheridan discovered not resolution but peace. Not ambition but purpose. Not shouts of convictions but whispers of the presence of God.
In The Making of Us, Sheridan invites us to join him as he walks along England's shores and we trace the borders of our own hearts. Part pilgrim's journal, part call to reflection, The Making of Us eloquently reminds us of the beauty of journeying into uncertainty, the freedom of letting go, and the wonder of losing our identity only to discover who we really are.
Includes chapter-by-chapter reflection guide for groups or individuals.
What Others Are Saying
Sheridan Voysey knows well the art of telling a story that takes you on a journey far away from where you are now. His latest book, a pilgrimage to rediscover himself, is just such a lyrical achievement. More importantly, though, his tale appeals to the journey of heart that all of us grapple with. Indeed, The Making of Us might just be the making of you.
Claire Diaz-Ortiz
Bestselling Author and Speaker
In The Making of Us Sheridan takes us on a beautiful and compelling trek to reveal how dissonance and disruption can call us into the delight of God. Brew a good mug of tea, wrap yourself in a warm blanket and let this pilgrimage take you to the wonder that you too have been on, are, and will always be on a great adventure to the Face of beauty.
Dan Allender, PhD
Founding President, The Seattle School of Theology and Psychology
Sheridan Voysey's reflection on the literal steps of his journey in search of the Lord's direction is a beautiful, evocative reminder that our lives as Christian saints are part of an eternal community, one not merely of our own place and time, and of a much larger story, one not merely of our own making.
Karen Swallow Prior
Author of On Reading Well and Fierce Convictions
Travelling with his friend DJ and the invisible figure of Saint Cuthbert (a favorite of mine), Sheridan also journeys with the God he has been struggling to understand and hear clearly. Through typically honest and wonderful descriptions of his surroundings and inner musings, Sheridan warmly welcomes us to join this rich experience. An exceptional read.
Adrian Plass
Author of The Shadow Doctor and The Sacred Diary of Adrian Plass series
From his first question about where we fit into the world, to his last about how we desire to be remembered, Sheridan fills us with hope as he recounts his own search for purpose and calling, guided by the deep truth that we are always with God. This beautiful book will challenge you, guide you, call you to the countryside and bring you back home to the truth that you too are always with God.
Becca Stevens
Founder of Thistle Farms, Author of Love Heals
About the Author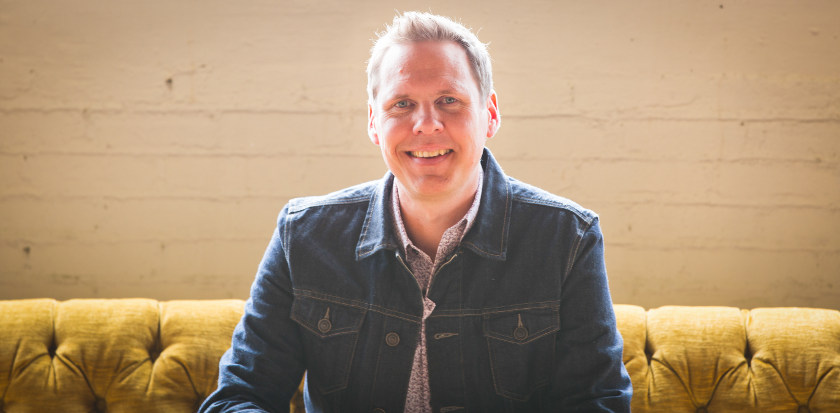 Sheridan Voysey is a writer, speaker, and broadcaster on faith and spirituality. His other books include Resurrection Year: Turning Broken Dreams into New Beginnings, Resilient, and the award-winning Unseen Footprints. Sheridan is a regular contributor to BBC Radio 2 and other international networks, and has featured on BBC Breakfast, BBC News, Day of Discovery, Moody Radio, and publications like The Sunday Telegraph. He is married to Merryn, and lives and travels from Oxford, United Kingdom.
Pre-Order for Exclusive Gifts!
The Making of Us will be out in paperback, ebook and audiobook on March 19-21 (America, Canada, UK and Europe) and April 16 (Australia and Asia). But you can pre-order now. There will be thank you gifts for doing so!
While we're getting these gifts ready, please order the book and keep your receipt. A page will be set up where you can enter your receipt number and receive your gifts. You can order through any bookstore or online retailer:
More Praise for The Making of Us
The Making of Us causes us to consider some of life's most searching questions: Who am I? What should I do with my life? I found it a beautiful book, not just in its lyrical writing but in its gentle yet firm encouragement to press on with our journey, even when we are doubting, fearful and tired. This is a book to nourish our souls. I highly recommend it.
Rob Parsons, OBE
Founder and Chairman, Care for the Family
Who are we when we lose the status of a significant job, when we don't hit milestones alongside our peers, when our best laid plans don't come to pass? Sheridan's hard-won wisdom is a gift to all of us who wrestle with these questions—to those at crossroads, to those who need help discerning the loving voice of God. This beautifully crafted and lyrically written book is destined to become a cherished friend and companion to many.
Jo Swinney
Author of Home
At one point in this stunning book Sheridan reflects, 'I want to craft words that captivate the heart and open eyes to see God.' In The Making of Us he does this with lyrical beauty. Through the pain, joy, heart-searching and wrestling of these two blistered-feet pilgrims, the reader is drawn into an intimate and healing pilgrimage too, finally discovering the simple truth that what makes us valuable is that we are children of God.
Paul Butler
Bishop of Durham
Sheridan proves to be an observant and wise travelling companion. This absorbing expedition along one of Britain's great pilgrim paths not only makes you feel like you're there, but also encourages you to embark on your own inner exploration along the way. Well researched and beautifully crafted, this book itself is a journey worth making.
Cathy Madavan
Speaker, writer, coach, and author of Digging for Diamonds
As I read The Making of Us, I felt like Sheridan Voysey was reading my journal. He describes the losses and disappointments of adult life with aching clarity. Fortunately, he also shows us how setbacks can be portals to a life of purpose—that 'Good things can come when you step into uncertainty.' Ride along on his journey. Like him, you won't come away unchanged.
Drew Dyck
Author of Your Future Self Will Thank You
Sheridan speaks with integrity and authenticity as he helps us consider our response when life begins to look different from what we hoped for or planned. I finished The Making of Us reminded that God can use even the most painful of experiences to shape us into the people he created us to be.
Kate Wharton
Assistant National Leader, New Wine network, Vicar of St. Bart's Roby, and author of Single Minded
Having faced a broken dream with courage, Sheridan Voysey sets off on a pilgrimage to rediscover his calling. What he finds is a deeper truth altogether. Whether or not you can strap on your walking boots, you'll find Sheridan a warm and winsome companion with whom to delve into matters of identity, calling, and hearing God's voice. One to savour, ponder, and share with others.
Amy Boucher Pye
Author of Finding Myself in Britain
The deep, relatable reflections in these pages stopped me in my hectic, hurried days, gave me space to drink in truths about issues of substance, and untangle wrong thinking. Rarely do any of us live out our 'Plan A' lives, and in The Making of Us I found perspective, hope, and wisdom through a wonderfully written blend of history, theology, and life lessons.
Vivian Mabuni
Speaker, and author of Warrior in Pink and Open Hands, Willing Heart
Pre-Order Now
Please Share!