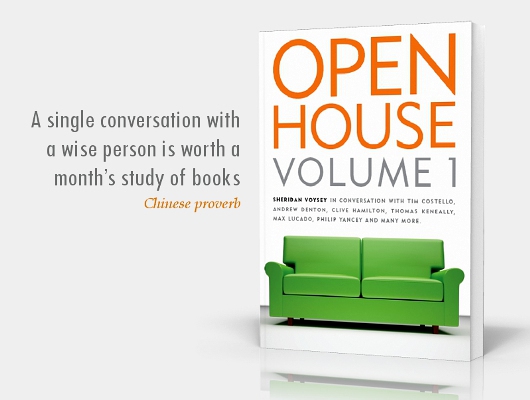 Open House Volume 1
Every Sunday evening Sheridan Voysey welcomes a variety of authors, artists and activists to his national radio program Open House.
If the Chinese proverb is true, and a single conversation with a wise person is worth a month's study of books, then this first collection of the 'best' Open House interviews could be the equivalent of a Masters course in life, with topics ranging from God, pain, success and poverty, to masculinity, materialism, politics and art.
Max Lucado will help you find your calling in life, and Philip Yancey will let you into his writing secrets. You'll smile at Adrian Plass's description of church life, cry with John Smith as he fears never seeing his children again, ponder the emptiness that once plagued Marina Prior's soul, and throughout the book, hear how people with faith and tenacity are leaving an indelible mark on this world.
Laugh, cry and marvel as you read the tales, tragedies and beliefs of some of the world's most intriguing personalities.
In the Book
Open House Volume 1 includes 25 conversations, with wisdom from:
Philip Yancey
Tim Costello
Eugene Peterson
Andrew Denton
Max Lucado
Thomas Keneally
Joni Eareckson-Tada
John Eldredge
Tim Flannery
Michael Frost
John Smith
Jeffrey Sachs
Marina Prior
Adrian Plass
James Morrison
Tony Campolo
and many more
Free Chapter
Max Lucado: Finding Your 'Sweet Spot'
From the Book
I will have to be honest with you, Sheridan, and say one reason [why I'm still a Christian] is that I haven't found a better alternative. And I've looked, I really have.
Philip Yancey
I had all the worldly things, the trappings of status and success, but I used to lie awake at 3 o'clock in the morning just feeling empty.
Marina Prior
Meaning is everything and humans will never cease pursuing the question of meaning. Nor should they. Indeed, nor can they.
Thomas Keneally
Buy Now