Thanks for your interest in my speaking. I talk regularly on issues of contemporary spirituality and belief, having 20 years of speaking and broadcasting experience behind me.
This page will give you an overview of who I am, some videos of what I sound like and some ideas as to how I could help you. The links to the right provide more detailed information if you need it. When you're ready please tell me about your event. I look forward to meeting with and speaking for you!

A Little About Me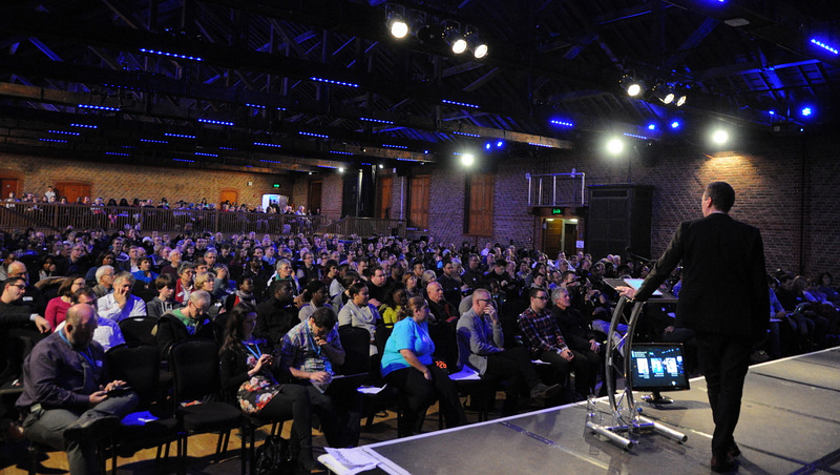 I am a writer, speaker and broadcaster on faith and spirituality. My books include Resilient, Resurrection Year (shortlisted for the 2014 ECPA Christian Book of the Year), Unseen Footprints (2006 Australian Book of the Year), and the three-volume series Open House: Sheridan Voysey in Conversation. I have been featured in numerous TV and radio programs, including Day of Discovery and 100 Huntley Street, am a regular contributor to faith programs on BBC Radio 2, and I speak at conferences and events around the world, including:
Spring Harvest (UK)
Christian New Media Awards (UK)
Compassion International (US)
Beauty for Ashes (South Africa)
Woman to Woman (UK)
Blackstump (AU)
London Institute of Contemporary Christianity (UK)
Methodist Church (UK)
Salt and Light Churches (UK)
Evangelical Alliance (UK)
Wesley Mission (AU)
Christian Schools Australia (AU)
and many more
Before moving to the UK in June 2011 I was the host of Open House, a nationally-syndicated Sunday evening radio show in Australia. I have conducted over 2000 interviews in my career. I am married to Merryn and in my spare time enjoy reading, photography and Oxford's cosy coffee shops.
Popular Topics
Here are some of my more popular topics. I aim to make each of my presentations rich in story and metaphor, humour and insight, customising each presentation to meet your event objectives or crafting a new talk for you.
| | |
| --- | --- |
| | Turning Broken Dreams into New Beginnings: The keynote talk from my book Resurrection Year, in it I highlight four ways God changes us through hard 'wilderness' experiences. This message has brought hope and healing to listeners around the world. Also available as a one-day or week-long retreat. |
| | The Resilient Life: It's easy to feel insignificant in a world that values power and popularity. In this keynote I explore Jesus' Sermon on the Mount as the ultimate guide to resilient living. When he's in the picture the insignificant become blessed, the small become great, hate becomes love, and weakness becomes strength. Also available as a one-day or week-long retreat. |
| | Longing for Love: What do women's magazines, plastic surgery, social media, and the latest hit song have in common? In their own way they each reveal our longing for love. In this message I contrast these things with a well known story about Jesus to explore what love is and where to find it. |
| | Unseen Footprints: Could we have had encounters with God without realising it? Could God be written into the drama of our lives as if played by a secondary character or an extra we haven't paid much attention to? In this talk I look at how God is trying to get our attention through pain, creation, beauty and people. |
| | The Power of Story: The power of a story goes well beyond its ability to delight and entertain us. Good stories can bring spiritual benefit too – awakening longing, offering a dream, providing guidance, even transforming us. This keynote is a story that includes various stories that reveal The Power of Story! |
| | A Basket Full of Stars: In this seminar I explore creativity and its uses for the Christian cause. The seminar consists of two parts: a 4-phase creative process, and 6 elements that communicators can implement into their writing, speaking and other communication ventures to stimulate listener curiosity. |
| | Listening to the Soul of Your Community: What does your community's culture—its stories, songs, buildings and advertisements—reveal about its soul: its beliefs, values, anxieties and longings? In this presentation I offer some tools to 'read' culture and social trends so you can better bring change to it. |
My audio and video pages have other messages you may be interested in.
What Others Are Saying
More endorsements are available here.

Next Steps
Thank you again for considering me for your event. I would love to have a phone conversation with you to discuss things further. Please use the red button below to tell me about your event. I will respond within 24 hours.