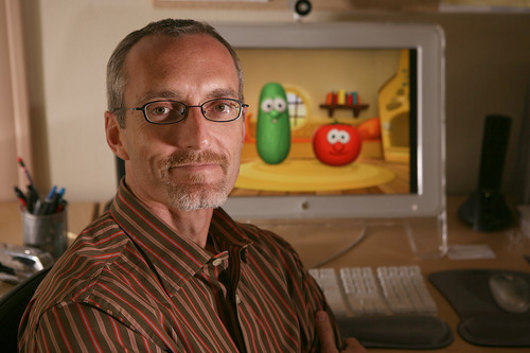 Uncategorized
Encore Episode: VeggieTales Creator Phil Vischer on Dreams, Loss and God
Picture credit: Anthony Robert La Penna, Chicago Tribune
I'm taking a couple of week's break, so here is an 'encore' episode of the More Than This podcast which has proven particularly popular in the past. Enjoy!
***
In 1989 a 22 year-old entrepreneur named Phil Vischer launched his dream of creating animated Bible-based kid's programs, starring a cast of talking vegetables. The result was VeggieTales. Starting on a computer in his spare room, Vischer's company grew beyond expectation. VeggieTales DVDs flooded the globe, and Bob the Tomato and Larry the Cucumber even got airtime on The Simpsons. Then, thirteen years later, it all came crashing down in bankruptcy. The result is a humble and wise Phil Vischer who has a wealth of lessons to teach us about life and dreams.
Listen Now
Podcast: Subscribe in iTunes | Right-click to download | Listen to Other Episodes
In the Interview
In this fun conversation, Phil and I explore:
How a young Phil Vischer discovered he had a 'weird' brain
How his parents' divorce shaped his outlook and creativity
His original idea for VeggieTales (this is hilarious)
How VeggieTales grew from nothing to The Simpsons and Saturday Night Live
The reasons why his company collapsed
How he felt losing everything he worked for
An important discovery about who we are (and aren't)
Why he believes God wants us to 'let go of our dreams'
Quotables
'I thought, "OK, I need naked, bald, limbless characters and I want to sell these videos to Christians"' Tweet this
'Success has a way of increasing our ambition. I started thinking I was supposed to be the next Walt Disney' Tweet this
'All the characters, songs & stories I'd created got packed into a box and sold at auction to the highest bidder. I lost it all' Tweet this
'My first thought was, "God, don't you love me? Don't you see how much good I'm doing?"' Tweet this
'After it all fell apart and I found myself alone and working out of an office near my house, God started to unwrap everything' Tweet this
'I'd made the work I was doing for God more important than my relationship with him' Tweet this
'I've come to know a God who wants me to let go of my dreams' Tweet this
"Hey boss, what are we doing with all these bunnies?" Tweet this
Talk to Me
Question: What have you learned about pursing the right dream? Leave a comment below or call me using the 'Send Voicemail' button. Please also rate this podcast on iTunes so other can hear about it!
Learn More
You may find the following resources helpful:
Book: [amazon_link id="0785222073″ target="_blank" container="" container_class="" ]Me, Myself and Bob[/amazon_link] by Phil Vischer
Book: Open House Volume 2 includes Phil's story
Subscribe
Subscribe to More Than This and never miss an episode.

 Subscribe in iTunes

 Subscribe via RSS

 Subscribe on your iPad or smartphone
Announcements
I mention my book Resurrection Year in the podcast. Since then, Resilient has been released too!
We've made the 6-session study guide for Resilient FREE for current and new blog subscribers. Go get it!
If you'd like me to speak at your conference or event this year, let me know your dates soon
Please Share This with Others