Winning the Christian Book of the Year award on its first Australian release, this second edition of Unseen Footprints includes all new features:
Reflection questions for individual and group study
A 'Going Deeper' section with guided spiritual exercises for each chapter
A new Foreword by Lily Bragge
A beautiful new cover design
Perfect as a gift, for reading groups or small group use, the new edition of this highly popular book is available now!
About the Book
Unseen Footprints is more than an award-winning book—it's a journey about opening our spiritual eyes to see the activities of God around us.
Could we have had encounters with the divine that we haven't yet recognised as such? Could God be written into the drama of our lives as if played by a secondary character or an extra that we haven't paid much attention to?
Incorporating classic and contemporary stories, vivid metaphors and compelling graphic design, Unseen Footprints is a reflective walk through pain, yearning and doubt; a journey that highlights the way God whispers to us through creation, beauty and people; a journey that leads to an encounter with an unseen but present God who shares his dream of a new world and calls us to participate in its creation.
What if unseen footprints walked before us, behind us and beside us?

Praise for Unseen Footprints
Sheridan Voysey has written a charming book brimming with evocative stories and subversive parables that coax us into the complex search for meaning. As a guide he manages to be spiritual without being religious and reflective without being sentimental—an artful little gem.
Alan Hirsch, author, The Forgotten Ways and Untamed
A thoroughly enjoyable meander through the varieties of ways that God touches us and draws us closer to himself. Through a delightful examination of movies, social trends, personal conversations and natural wonders, Sheridan Voysey leads us on a journey to discover God's unseen footprints in our lives.
Michael Frost, author, Seeing God in the Ordinary and Exiles
Reading Unseen Footprints will open your eyes to the God who is already present in your life and in this amazing world of ours. It invites us along a path of grace, true vocation and transformation.
Tim Costello, CEO, World Vision Australia
What the Judges Said
By using excellent examples from contemporary culture, Unseen Footprints provides an excitingly fresh and creative look at the intersections of the divine in daily life… A thoughtful and intelligent book which is creative, original and readable, but has depth.
Judges' Comments, ACLS Book of the Year Awards 2006
What Readers are Saying
I can't pass up the chance to say how much I enjoyed Unseen Footprints. I appreciated how true your reflections and insights are about our Heavenly Father, both for Christians and those who are seeking God. Thank you for writing such an amazing book.
Amy, Sydney
Despite not presently being a church goer, I found Unseen Footprints an awakening read. It was a very random but serendipitous series of events which led me to a tiny bookstore, where I was more sheltering from the heavy downpour outside than browsing for a tome. Twenty minutes later I left the store carrying your book.
Richard, Newcastle upon Tyne
I have read Unseen Footprints and loved it, and am ordering more for my friends and family.
Jill, Spain
Unseen Footprints is absolutely brilliant! I have often looked for decent stuff to give to my spiritual friends who are interested in faith but apprehensive. It is seriously one of the best reads of its kind that I have had in a while.
Andrew, Perth
Congratulations on a WONDERFUL book! I really enjoyed your clear, easy to read writing style, and your stories. They beautifully complimented the points you were making and I enjoyed the diverse range of characters, situations and movies you drew from. I can't say enough good things about Unseen Footprints.
David, Gosford
I wanted to write to tell you how much I enjoyed the book and to express my appreciation of your work. The book is a great read—a blend of your own story, intellectual thought, wonderful human stories and philosophical reflection.
Carl, Sydney
I loved Unseen Footprints. I find a lot of Christian books are not good for lay people. Most of the people I meet want to discover faith from where they are at, not go through reams of dogma. Your book is good for that. I'm ordering 4 more copies for my friends.
Megan, Brisbane
I have been feeling rather distant from God most of this year and I have just read the chapter in Unseen Footprints about doubting God. I have been thinking of giving up lately, however, each time something draws me back. So, thank you for writing this book. Reading it is helping me to understand God a little more.
Jessica, Melbourne
Once in a while a book comes along that changes your life. The beauty and power of the words in Unseen Footprints touched me so deeply I was moved to tears. It marked a turning point in my life, not just spiritually, but in all aspects of it.
Alison, Sydney
FREE Downloads and Extras

FREE Chapters: Read or download the Introduction and first chapter of Unseen Footprints for free!

FREE Podcast: Exploring the story behind and the themes within Unseen Footprints.

FREE Audio Chapter: Download the Introduction of the Unseen Footprints Audiobook for free. Includes a reflection exercise on becoming attentive to God. (Click the image to play, or right-click and 'save target' to download.)

Related Talks and Articles: Delve further into the message and meaning of Unseen Footprints with these related talks and articles.
For the Media

Download the Media Kit: Includes topic angles and sample interview questions. (Click the image to open, or right-click and 'save as' to download.)
Australian Media Inquiries
To schedule an interview, please contact Sheridan Voysey directly.
For review copies, please contact Strand Publishing Co stating your company, program and position.
New Australian Edition Trade Details
Unseen Footprints: Encountering the Divine Along the Journey of Life
Second Edition: December 2011
Format: Paperback. 224 pages
Author: Sheridan Voysey
Publisher: Strand Publishing Co
ISBN: 978 1 921202 92 6
About the Author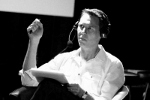 Sheridan Voysey is a writer, speaker and broadcaster on contemporary spirituality. His study of society, culture, scripture and religious movements, plus the wisdom gained from his 2000-plus radio interviews, have led to two core convictions: that human beings innately long for God, and that God walks beside us incognito.
Sheridan's other books include Open House Volume 1: Sheridan Voysey in Conversation, Open House Volume 2 and Open House Volume 3—compiled during his time as host of the nationally-broadcast radio program Open House. Sheridan is a columnist for Our Daily Journey and other publications, and is a frequent speaker at conferences and events. Follow him on Facebook, Twitter and Google+.

Related Resources

Unseen Footprints E-Book: The new edition book in Kindle, Kobo and ePub formats.

5-Copy Saver Pack: Buy 4 copies and the 5th comes FREE! Ideal for reading groups, small group study use, or for giving Unseen Footprints as a gift to family and friends.

Unseen Footprints Audio Book: An unabridged reading of Unseen Footprints by the author, Sheridan Voysey. MP3 download.

UK/US Edition: For customers in the UK, Europe, US and Canada.